About materials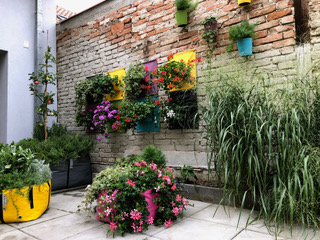 Investing in Blooming Walls® products is worth it. It endures for years and requires minimal maintenance. These are not the only advantages of this brand. Let's take a look at the other benefits it brings you.
Use them wherever you want: they are rain and sun resistant.
If you do not like monotony and often change the style of your living space, you will appreciate that the materials from which Blooming Walls® hanging pots (The Green Pockets® AMMA % PEVA and The Green Pot) are made can be used both indoors and outdoors. The high-quality materials are waterproofs and have a protective layer to shield against UV radiation. There is no fear of them fading or going mouldy.
Another great outdoor product of Blooming Wall®, The Green Bag, is made of 100% PVC, as is The Green Pockets® PEVA. This high-quality polyester with double-sided PVC coating will withstand temperatures from minus 30 to plus 70 degrees Celsius!
The Green Pockets® AMMA and The Green Pot are made of 100% acrylic. In addition to the UV protective layer, they also feature a special nanoflourocarbon impregnation that protects them against moisture, water and dirt.
You can easily clean them: you just need a cloth, a fine brush and some water.
Inside each Blooming Walls® Green Pockets® AMMA and PEVA hanging pot is a plastic lining in which the plant is planted. This prevents any leakage when the plants are watered. Maintenance of the outer part is very simple.
The Green Pockets® PEVA and The Green Bag are made of 100% PVC that can be easily cleaned with a damp cloth or sponge. Additionally, The Green Bag can be easily rinsed with a garden hose, while the smallest bag fits conveniently under a tap for washing.
The textile products, The Green Pockets® AMMA and The Green Pot, are wiped clean with a soft brush or a dry sponge. Do not use any chemicals on these products – it could impact the performance of the nanoflourocarbon impregnation.
You do not pollute the environment. They are friendly to both nature and human health.
Apart from the fact that the materials require almost no maintenance, and Blooming Walls® guarantees their functionality for at least four years, there is one more positive feature to the 100% acrylic products: using them does not pollute the environment! The International Öko-Tex® certification proves the health and safety of The Green Pockets® AMMA and The Green Pot textile. Simply put, meeting this standard ensures that the material does not adversely affect the environment or human health. Moreover, Blooming Walls® PVC products can be recycled easily.
| | AMMA | PEVA | The Green Pot | The Green Bag |
| --- | --- | --- | --- | --- |
| Outdoor use | ✓ | ✓ | ✓ | ✓ |
| Indoor use | ✓ | ✓ | ✓ | |
| Waterproof | ✓ | ✓ | ✓ | |
| UV protection | ✓ | ✓ | ✓ | ✓ |
| Dry cleaning | ✓ | | ✓ | |
| Wet cleaning | | ✓ | | ✓ |